Vikoristannya zelenih fasadiv ta zelenih dahiv v strukturi mista
Keywords:
Зелений фасад, зелений дах, вертикальні системи озеленення, зелена стіна, озеленення, архітектурне середовище, архітектурна характеристика
Abstract
В останні десятиліття все більше уваги приділяється «екологічній свідомості», в тому числі і в сферах будівництва та архітектури. В умовах сучасного формування архітектурного образу міста висотною щільною забудовою, спостерігається зниження екологічних показників, що в першу чергу пов'язане зі зниженням кількості міського озеленення. Вирішення проблеми озеленення мегаполісів обумовлює пошук нових методів озеленення.
Останнім часом концепція «зеленої архітектури» була визначена, як сукупність елементів, які забезпечують численні екологічні функції як в будівельних, так і в міських масштабах. Серед цих функцій виділяються енергозбереження будівлі, а також зниження температури навколишнього середовища та зменшення ефекту міського теплового острова. У цьому відношенні одними з найбільш інноваційних і цікавих рішень для цієї мети є системи  будівництва зелених будівель, які являють собою зелені дахи та зелені фасади.
В той час, як традиційна зелень в архітектурі використовується переважно з естетичних причин, в даний час її використання також виправдане з екологічних та економічних причин, таких як економія енергії, довговічність будівельних матеріалів, поліпшення міського клімату.
References
Heraimovych, A., & Shylkyn, N., 2016. Ozelenenie kak instrument ekologicheskih resheniy [Gardening as an environmental de-cision tool]. Zdanie vysokih tehnologii – Sustainable building technologies, 3, 14-30. Retrieved from http://zvt.abok.ru/upload/pdf_articles/351.pdf (in Russian).
Holovashchenko, V.L., 2013. Vykorystania zelenyh facadiv pry proektuvanni budivel na terytoriiah negatyvnoho vplyvu aeroportiv [The use of green facades in the design of buildings in areas of negative impact of airoports]. Sychasni problem arhitectury ta mistobuduvannia – Modern problems of ar-chitecture and urban planning, 23, 322-327 (in Ukrainian).
Shvets, V.V., & Rudenko K. S., & Veremiy O.H., 2011. Formuvannia ekologichnoho karkasu mista. Ukryttia pid zelenym fasadom [Formation of the ecological framework of the city.Shelter under the green facade]. Suchasni tehnolohii. Materialy I konstruktsii v budivnytstvi – Modern tech-nologies. Materials and structures in construction: Proceeding of scientific and technical collection. Vinytsia: VNTU, 139-143 (in Ukrainian).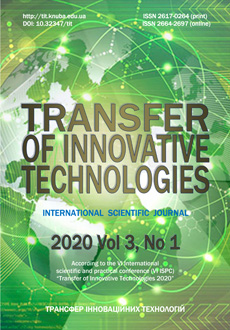 Downloads
How to Cite
Kryshtofor, I. (2020). Vikoristannya zelenih fasadiv ta zelenih dahiv v strukturi mista. Transfer of Innovative Technologies, 3(1), 35–38. https://doi.org/10.32347/tit2020.31.0106
License
Copyright (c) 2020 Transfer of Innovative Technologies
This work is licensed under a Creative Commons Attribution-NonCommercial-NoDerivatives 4.0 International License.
Our journal abides by the CREATIVE COMMONS copyright rights and permissions for open access journals.
Authors, who are published in this journal, agree to the following conditions:
1. The authors reserve the right to authorship of the work and pass the first publication right of this work to the journal under the terms of a Creative Commons Attribution License, which allows others to freely distribute the published research with the obligatory reference to the authors of the original work and the first publication of the work in this journal.
 2. The authors have the right to conclude separate supplement agreements that relate to non-exclusive work distribution in the form in which it has been published by the journal (for example, to upload the work to the online storage of the journal or publish it as part of a monograph), provided that the reference to the first publication of the work in this journal is included.