Shlyahi optimizaciyi likuvalnih ta ozdorovchih prostoriv dlya ditej
Keywords:
діти, медичний заклад, архітектура, засоби, простір, лікування, оптимізація
Abstract
У сучасному суспільстві існує певний стереотип, що перебування в лікарні завжди провокує стресовий стан людини. Особливо важко візити до лікарів переносять діти, переживання травмують психіку дитини, що в подальшому стає причиною самолікування та нехтування відвідуванням медичних закладів. На динаміку одужання дитини впливає не лише якість медичних послуг, але й простір, в якому вона перебуває. Недавня епідемія кору підтвердила актуальність проблеми оновлення архітектури медичних закладів, яка б запобігала розповсюдженню інфекції.
References
Lobzyn Y.V. et al, 2009. Infektsionnyye bolezni: problemy adaptatsii [Infectious dis-eases: problems of adaptation]. Sankt-Peterburg, JeLBI-SPb (in Russian).
Nazarova M.P., Barkovskaja, & Janin K.D., 2015. Sociokul'turnye aspekty organizacii arhitekturnogo prostranstva dlja medicinskoj dejatel'nosti. [Socio-cultural as-pects of the organization of the architectural space for medical activities] Vestnik Vol-gogradskogo Gosudarstvennogo Universiteta. Serija 7. Filosofija. Sociologija i social'nye tehnologii, 2 (28), 68-74. (in Russian).
McLaughlan R., 2018. Psychosocially Supportive Design: The Case for Greater Attention to Social Space Within the Pediatric Hospital. HERD: Journal of Research & Design Journal. 11 (2).151-162. DOI:10.1177/19375867177317 39.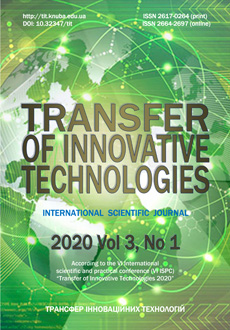 Downloads
License
Copyright (c) 2020 Transfer of Innovative Technologies
This work is licensed under a Creative Commons Attribution-NonCommercial-NoDerivatives 4.0 International License.
Our journal abides by the CREATIVE COMMONS copyright rights and permissions for open access journals.
Authors, who are published in this journal, agree to the following conditions:
1. The authors reserve the right to authorship of the work and pass the first publication right of this work to the journal under the terms of a Creative Commons Attribution License, which allows others to freely distribute the published research with the obligatory reference to the authors of the original work and the first publication of the work in this journal.
 2. The authors have the right to conclude separate supplement agreements that relate to non-exclusive work distribution in the form in which it has been published by the journal (for example, to upload the work to the online storage of the journal or publish it as part of a monograph), provided that the reference to the first publication of the work in this journal is included.