Data protection by means of firewalls of new generation
Keywords:
firewall, UTM, filtration of packages, network safety, firewall of new generation
Abstract
With every year volume the internet of traffic and devices interconnect grows. Accordingly, and a necessity grows for network safety both personal devices and large the ramified informative networks. Firewall it one of basic instruments that is used for protecting of networks from the unauthorized attempts of access. However, the firewalls of present generation already are not able independently (without the additional and permanent tuning) to provide sufficient strength security [1].
A computer network consists of two or more computers that is connected to the exchange resources, such as printers, scintiscanner, databases, files, programs. Computers in a computer network can be connected by means of coaxial cables, twisted pair, fiber optics, companions or infra-red rays of light. When a computer network is connected to the Internet, even a separate computer can become the aim of hackers and harmful software. A firewall can provide sufficient safety that will allow to avoid threats or mother facilities for a fight against network attacks. A firewall is an obstacle or guarantee that is intended for defense your the personal computer, plane-table or telephone from ill-intentioned software that exists in the Internet. A firewall must guarantee that only the authorized user has an access to the operating system or to the computer interconnect, protecting private information and protecting the users of computers from the thefts of person. In most cases firewalls block an unauthorized division about that the users of computers do not know [2]. Data interchange between your computer and servers and routers in a network, and knots that are between networks watch these data (what sent in packages), to check, or safe they or not.
A firewall is the important component of architecture of safety of computer network. A firewall is software or vehicle device that filters information (packages) that comes over the Internet to your personal computer or computer network. Firewalls can decide or allow or block network traffic between devices on the basis of the rules preliminary adjusted or set by the administrator of firewall.
References
Geier E., 2011. Intro to Next Generation Firewalls. EsecurityPlanet. URL: https://www.esecurityplanet.com/security-buying-guides/intro-to-next-generation-firewalls.html (access: 17.06.2019).
Gralla P., 1999. How the Internet Works. Indianapolis: Que Pub, 340.
Imran M., 2015. Role of firewall Technology in Network Security. International Journal of Innovations & Advancement in Computer Science, Vol.4, No.12.
Microsoft Corporation. Improving Web Application Security, 2010. Threats and Countermeasures. Docs Microsoft.. URL: https://docs.microsoft.com/en-us/previous-versions/msp-n-p/ff649432(v=pandp.10) (access: 18.06.2019).
Stavroulakis P., Stamp M., 2010. Phishing attacks and countermeasures. Crete: Springer Science & Business Media, 867.
Kondratenko V., 2019. On creation of the universal mathematical management decision making theory. Underwater Technologies, Vol.09, 3-12.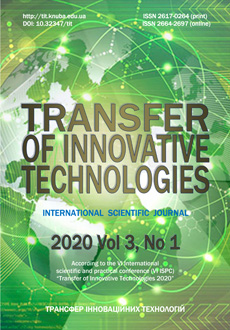 Downloads
How to Cite
Terentyev, O., & Gorbatyuk, I. (2020). Data protection by means of firewalls of new generation. Transfer of Innovative Technologies, 3(1), 90–92. https://doi.org/10.32347/tit2020.31.0211
Section
Mechanical Engineering
License
Copyright (c) 2020 Transfer of Innovative Technologies
This work is licensed under a Creative Commons Attribution-NonCommercial-NoDerivatives 4.0 International License.
Our journal abides by the CREATIVE COMMONS copyright rights and permissions for open access journals.
Authors, who are published in this journal, agree to the following conditions:
1. The authors reserve the right to authorship of the work and pass the first publication right of this work to the journal under the terms of a Creative Commons Attribution License, which allows others to freely distribute the published research with the obligatory reference to the authors of the original work and the first publication of the work in this journal.
 2. The authors have the right to conclude separate supplement agreements that relate to non-exclusive work distribution in the form in which it has been published by the journal (for example, to upload the work to the online storage of the journal or publish it as part of a monograph), provided that the reference to the first publication of the work in this journal is included.